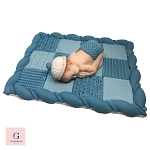 Baby Cake Toppers
We make all our Baby Cake Toppers and send all over Australia.
We can make almost anything you require please allow upto 4 weeks notice for your order..
Once posted depending on where you are it could take a further 7 days before you receive your order..
The more notice the better when it comes to making and shipping your order.
We make all our Toppers in our registered Kitchen Pakenham Victoria.
Proudly Australian Made
************If you require your order posted, please make sure you select postage in the cart. ***********