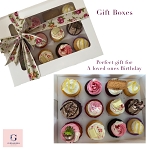 Cupcake Bar
At Girraween Creations we make a Large variety of Cupcakes.
A Range of Flavours, Fillings and Decorations
Orders can be made in 24hrs for Basic Cupcakes if Fondant toppers required we need atleast 5 Days Notice.
If you require urgently please email or call us as we like to help when possible.
All our flowers are manufactured in Pakenham Victoria
Proudly Made in Australia