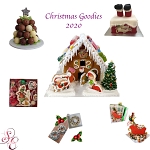 Christmas Range 2020
SECDS Christmas Range such a variety this year..
Gingerbread Houses, Chocolate Houses, Christmas Fruit cakes, Gingerbread Cookies, Macarons, Cookies, Truffles, Gift Packs and Beautiful Hampers.
Talk to us today and we can make up a beautiful hamper with our Yummy goodies..
We manufacture all our products in our registered Kitchen
Located South Eastern Suburbs Melbourne Pakenham Victoria.